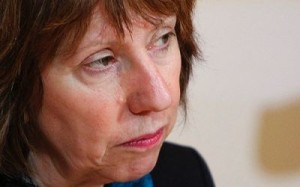 In the end, EU High Representative for Foreign Affairs and Security Policy did all the right things. Catherine Ashton travelled to Egypt, she demanded to talk to all the parties involved in the crisis, including the political representatives of the Muslim Brotherhood (the party is the Freedom and Justice Party). Unlike the US envoy, her request was satisfied She publicly asked for Morsi's release, a necessary step for any actor demanding a return to a dialogue between all political forces in Egypt. She was asked to facilitate such dialogue.
Chapeau. Given that she has been battered by the press since she took on this difficult job, I feel I should openly say that Ashton has proven to have sense of initiative, to be able to earn the trust of politicians who know and care little for the EU, and has given the Egyptian crisis a new twist.
The EU's role may turn out to be marginal in the long-run. Egypt is a large, complicated and important country. No outsider can ever determine its course. It was known that the US was in trouble there. Obama gave a beautiful speech in Cairo in 2009 to change course compared to the ignominious Bush years. But he did not succeed in any of his intentions. Could it be that the EU could succeed where the US failed?
EU member states have been good friends of Cairo. Egypt is one of the largest Muslim countries, the pioneer of Arab-Israeli relations, a lynchpin between North Africa and the Middle East, the most influential country in the region in terms of balance of power (until not long ago in terms of culture too), and also a key country in relations with the rest of Africa. Political leaders in Cairo have always played these cards well in their diplomatic relations with European states and with Washington.
Washington set the stage, EU member states played their little roles. For instance London liked Cairo for its role with Sudan, its cooperation in fighting terrorism, Rome liked Cairo for its commercial interests, and so on. The EU pretended to have a policy towards Egypt.
Now the EU has the opportunity to make some choices. Facilitating a national dialogue may well be something that suits the EU as it is. Ashton has proven a good track record with Serbia-Kosovo. The EU has been supporting these dialogues in other parts of the world, from the Philippines to Yemen, and in many cases registering successes. It might not make much difference in developments in Egypt. But it is the first time the EU can do something different compared to the past.
Rosa Balfour