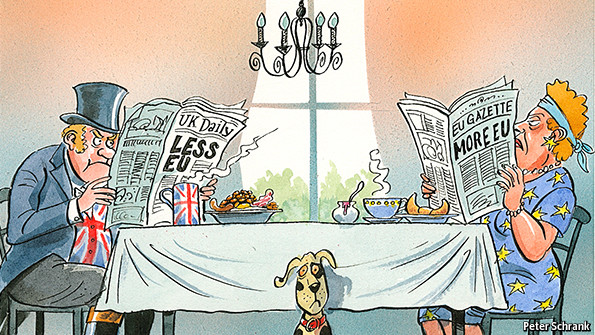 BRITAIN and Europe are like a couple in a difficult marriage. One day they have a blazing row; the next they want to kiss and make up. Britain's David Cameron tried every means possible to block the nomination of Jean-Claude Juncker as the next president of the European Commission. But reasoned argument, appeals to self-interest, emotional blackmail and threats of "consequences" all failed: the European Union summit on June 26th and 27th endorsed Luxembourg's former prime minister by 26 votes to two (only Hungary sided with Britain). Now Mr Cameron says Mr Juncker is a man he can do business with. Germany promised to help keep the family together. Sweden would "go the extra mile" to satisfy Britain's desire to renegotiate its relationship with the EU. All vowed that British concerns would "be addressed" and that "ever closer union" need not apply.
Many in Brussels dismiss the "Junk Juncker" campaign as a tantrum provoked by the internal politics of the Conservative Party and the challenge of the UK Independence Party rather than by the EU. Perhaps, some Eurocrats hope, the problem will go away if Mr Cameron loses office next year. That would be a delusion. British politics may be changing, but the EU is changing too, and in ways that are uncomfortable for any British government. It was striking that all the main British parties objected to the system of Spitzenkandidaten, or leading candidates, that secured Mr Juncker's victory, fearing it would shift power from national governments to the European Parliament. Britain long ago stepped out of line with the rest of the EU. It is neither in the euro nor in the Schengen free-travel zone. Its desire for an ever looser union may be postponed but cannot be avoided. Every row rends the relationship further, and there are bound to be more.
For one thing, Mr Juncker's nomination is just the start of the fight for top Brussels jobs. At a summit on July 16th, immediately after the parliament's expected endorsement of Mr Juncker, leaders will wrangle over other posts, including that of the president of the European Council (representing leaders), the high representative (the foreign-policy boss), a full-time president of the Eurogroup (the euro zone's finance ministers) and the main commission jobs. European leaders have reassured Mr Cameron that the head of the European Council, in particular, will be chosen by consensus. Yet such private promises may not survive the last-minute scramble for national influence.
The usual method is to satisfy all with a package that balances political party, region and gender. Since Mr Juncker is from the centre-right European People's Party (EPP), the European Council job may go to the centre-left Socialists & Democrats. The obvious choice is Helle Thorning-Schmidt, Denmark's prime minister (married to Stephen Kinnock, son of Britain's former Labour leader, Neil Kinnock). But she may not be leftist enough for France's François Hollande, and she is handicapped because Denmark, like Britain, is outside the euro. Some are touting the Dutch Liberal prime minister, Mark Rutte, but his abrasiveness over euro-zone bail-outs has incurred the wrath of southern Europeans and his group now trails Mr Cameron's European Conservatives and Reformists in the parliament. So it may be back to the EPP: Finland's Jyrki Katainen, Latvia's Valdis Dombrovskis, Estonia's Andrus Ansip or Ireland's Enda Kenny, all former or current prime ministers.
Contenders for the foreign-policy job are three foreign ministers: Poland's Radek Sikorski (too anti-Russian for some, and damaged by leaked tapes of conversations in which he criticises both America and Britain), Italy's Federica Mogherini (too pro-Russian for others, and a neophyte) and the Netherlands' Frans Timmermans. Having been sidelined with the foreign-policy job for Catherine Ashton, Britain now wants a big economic post, perhaps competition (also claimed by Germany) or the single market. Assuming the British can overcome Mr Juncker's wish to reward his supporters, securing such a job would require them to send a heavyweight who is not so Eurosceptic as to invite rejection by the European Parliament—a test they may well fail.
One thing should be watched in the manoeuvring. As important as the public figures are less visible officials, particularly those linked to Germany's centre-right CDU. The forces behind Spitzenkandidaten include officials linked to Germany's centre-right CDU such as Klaus Welle, secretary-general of the European Parliament, and Martin Selmayr, who is likely to be Mr Juncker's chief of staff. A canny gesture for Britain would be to appoint Jonathan Faull, a respected senior director-general, bagging the top post in the bureaucracy, secretary-general of the commission.
The changing balance of power
The nub of Britain's dilemma is the fact that the more Mr Cameron talks of leaving, the more toxic he becomes to his friends. On Spitzenkandidaten, Britain had the sympathy of about a third of leaders, yet almost all abandoned the prime minister. He himself ruefully admits that British support for any candidate would now "blight" their chances. France, so often Britain's rival, would normally share the desire to ensure the primacy of national leaders. After all, it was de Gaulle who pressed to keep the national veto in 1965. But these days Mr Hollande counts for little. He signed up to Spitzenkandidaten, hoping to get a German Social Democrat, Martin Schulz. He and his Italian colleague, Matteo Renzi, now hope Mr Juncker will be soft on fiscal austerity.
The heart of the matter is the strength of Germany. Mr Cameron trusted Chancellor Angela Merkel's half-promise to halt Mr Juncker, but she changed her mind when she was accused at home of favouring the British over democracy. When the lady was for turning, everybody else turned too. It is she, above all, who will decide how far Europe can go to keep Britain in.