The former Italian Prime Minister will lead a team composed of representatives from the European Parliament, Commission and Council. Schulz: "He will have to find a difficult compromise." Barroso: "It will be more transparent and democratic accountable."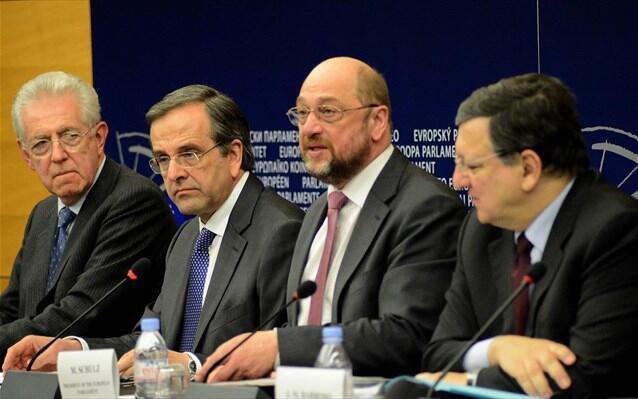 They wanted a real event, organising a press conference with all the top representatives of the European insitutions. The Presidents of the European Parliament, Martin Schulz, of the Commission, José Manuel Barroso, of the Council, Antonis Samaras, welcomed the former Italian Prime Minister Mario Monti back in the European stage. Monti is to chair a high-level group on European Union own resources, overhauling the way in which the European Union budget is funded! trying avoid total dependence from Member States' contributions. "It is not a way to impose new taxes, it is a rather a way for elaborating new concepts for funding institutions," said Monti.
The high-level group on own resources, together with the review clause were "two basic elements of the agreement on the MFF (Multiannual Financial Agreement)," said Schulz, adding that "this is a first step." The issue was one of the centers of discussion between MEPs and Member States, and Monti will have to find "a difficult comprise" now. European Council President Samaras said "the current system of resources needs an overhauling" given that "it is too complex and not aligned with actual requirements." "This group will now study new ways to finance the European Union budget and," said President Barroso, "they will study the ways to make revenue collection more simple, fair, transparent and democratically accountable." The high-level group will be joined also by the Commission Vice-President Šefčovič, Commissioner Lewandowski and Commissioner Šemeta, "who bring with them a wealth of knowledge on inter-institutional, budgetary and fiscal matters." Alain Lamassoure (EPP), French chairman of the Committee on Budgets, Ivailo Kalfin (S&D), one of the negotiators for the MFF, and Guy Verhofstadt (ALDE), former Beligian prime minister, member of the Spinelli Group together with Mario Monti, will represent the European Parliament in the group.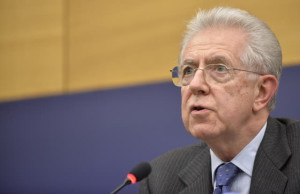 Mario Monti said he has accepted the appointment because "this is a key topic for the future of the Union." "I always feel people thinks the EU is a zero-sum game," where during financial negotiations "some States lose, some win" but, actually "this is a wrong idea, because the Union creates added value through integration." Not only a technical role, though, "but also a political one, because we will need a knowledge of both financial analysis and high-politics, when we are to discuss about funding the coahabitation of half a billion citizens."
Alfonso Bianchi