Brussels – The Digital Single Market is the indispensable response to growth. Roberto Viola, DG of the European Commission's Directorate-General for Communication, Content and Technologies (Connect), underscores that Europe is a "benchmark" in terms of regulation. Unifying the market is the starting point for talking about Web Tax, development of 5G, regulation of national networks, this all while continuing to incorporate into the sectoral legislation the "founding values" of the European Union, through education and certainties to be offered to companies. Mr. Viola has given Eunews this long and thorough interview, whose content will enrich the debate of the fourth edition of "How Can We Govern Europe?", The annual event on the major (and not-so-major) themes of the European Union that will take place the on December 6 and 7 in Rome.
Eunews – Europe has been the leader in the development of mobile telephony with the GSM standard, while in its subsequent digital development, that is, the OTT (Over The Top), ball has rolled overseas: is the Digital Single Market is the Commission's answer so that the pendulum returns to the old continent, what is the priority?
Viola – The Digital Single Market is the EU's response to the opportunities and challenges of the digital age. We are removing barriers to the market, improving access for business and consumers and creating the right framework for both connectivity and the data economy.  We have presented 43 initiatives, 24 legislative, over the last 2 and a half years. We have already adopted some of them, such as the end of roaming charges and content portability.
All of these initiatives are interconnected. Without spectrum coordination, we cannot deploy 5G connectivity needed for the connected vehicles or for the Internet of things. Without High Performance Computing, we cannot unlock the potential of digital health or maintain high cybersecurity standards. And without platforms-to-business rules and strong consumer protection rules we cannot have an open and fair e-commerce sector. All of these initiatives will allow the EU to become a thriving place for digital investment and technological innovation.
Europe is a role-model in terms of regulating the digital field. We have succeeded in embedding core European values such as freedom of speech or privacy in our innovative legislative proposals. We will continue to do this in our work on online platforms or cybersecurity.
How is the Digital Single Market, in addition to the health issue, very dear to you, connected to the Industry 4.0 project and the lack of digital skills?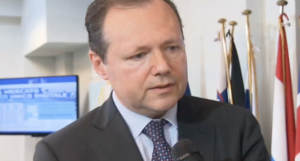 Digitising the European industry is essential in preserving our global competitiveness. We have to join forces and focus our activities to safeguard the competitiveness of our industry and to guarantee Europe's welfare. This is a complex project involving the industry itself, Member States and the European institutions in order to be successful. Our main approach here is to support and trigger collaboration among Member States. Commission budget should be used to bring together national activities to implement a European Industrial Policy Strategy that will help our industries stay or become the world leader in innovation, digitisation and decarbonisation.
Through the European Platform of National Initiatives, launched in March 2017 in Rome, we help to coordinate national Industry 4.0 initiatives. The European added value comes from networking and cross-border collaboration mechanisms, where Member States, regions, industry and academia act jointly together in pursuit of common goals. With priorities on standardisation through platform building and large scale experimentation as well as on networks of Digital Innovation Hubs, the Digitising European Industry initiative is federating actions – or in simpler terms – providing the glue that links national strategies.
The digitisation process, in industry, and in services, has important implications for the labour market and the future of skills. Digitisation will bring about the transformation of many professions. Low skilled jobs, which are repetitive, dirty or dangerous for humans, will likely be automated, allowing humans to focus on less onerous and more fulfilling tasks. Many new jobs will therefore be created, through the emergence of new professions and greater demand for existing job profiles, which will happen in both traditional industries and new sectors that do not yet exist.
Considering these effects of digital transformation, we must invest in our human capital. Boosting digital competences will enable workers to use these new technologies and allow them to carry out those tasks that humans perform better than machines, built on creativity or social interaction.
The so-called "Web Tax", a proposal which came from many European countries (with some which are against it, such as Ireland) seems to have come back to the agenda of European leaders: it will be a test bench to show that the size of any Member State is not sufficient to play a role in the world economy, this obviously does not concern solely the digital market but also all others.
An issue like the "web tax" cannot be dealt by EU countries in isolation, as it risks the disruption the digital single market. Uncoordinated action can increase international corporate tax litigation, provide further loopholes for multinational digital companies and damage the consumer. The EU has started a reflection on the taxation of digital business models aimed at preserving the tax bases of EU countries and at establishing a level-playing field between brick-and-mortar and digital companies as well as among digital companies regardless of their location. A common approach towards taxation of digital companies will also be much more effective vis-a'-vis third-countries companies and jurisdictions, as these matters are dealt with through international treaties, and the EU offers member States a better bargaining position.
IoT, self-driving cars, ultra-broadband communication and even new types of occupation. Citizens hear about things that almost seem like science fiction, but they are there, just around the corner. Will the 5G be the towing of all this?
Yes, 5G will be the enabler of new applications that will be possible thanks to very high speeds and low latency, such as high definition video everywhere and augmented reality where the digital and physical world will become one. 5G will provide the much needed capacity to make data traffic jams a thing of the past. It will transform our industries with huge growth opportunities and creating new jobs. 5G will also improve the access to digital skills and change the way we work. Its impact will be experienced by all European citizens and businesses. We will especially feel its benefits for example in safer mobility, cheaper energy, and better health services.
2018 will be the year when 5G technology will start to be deployed at large scale for testing purposes. First tests have already started in major European cities. Citizens will surely be able to get in touch with 5G in these showcases. Moreover, the Commission is creating opportunities for large experimentation projects to test 5G for automated driving or smart manufacturing in the whole EU.
Several Member States are about to launch or close the call for tenders for the 5G spectrum. How the spectrum, a rare commodity by definition, should be managed to ensure the plurality of actors?
It is important for 5G actors to have legal certainty to be able to invest. That means that rules for spectrum assignment should be consistent in Europe. Especially in higher frequency bands, we shall look at more flexible usage conditions for spectrum use to allow for sharing among a wide range of market actors.
Whereas Member States and market actors agree with the overall objectives of the Commission, commitment in some areas need to be reinforced.  First, more commitment is needed from industry for an ambitious 5G experimentation roadmap that requires close cooperation between different economic sectors. Second, more engagement is needed where Member States need to adopt a European coordinated approach, in particular in the area of spectrum coordination and common deployment roadmaps.
We want to avoid fragmentation of approaches between Member States and between sectors, not to replicate the 4G mistakes, when a patchy EU deployment prevented Europe from reaping the full benefits, economies of scale and of scope enabled by a coordinated deployment at an early stage. The combination of proposed voluntary and regulatory actions should hence create a more stable environment to stimulate investments. From that perspective, the EU spectrum reform is a key ingredient of our proposal to support 5G and its coordinated deployment in Europe.
E-commerce, geoblocking, Data protection, there have been major advances, where do you see the most significant problems? Why is there so much resistance in the content sector (think, for example, of the SatCab directive and the Country of Origin Principle)? Why are we incapable to create a European Content Market that goes beyond individual countries?
Increasing the availability of creative content (for example books, music, movies) for consumers across the EU is a key objective of our Digital Single Market Strategy. We have been addressing it via various legislative proposals, starting from the Directive on Collective Rights Management back in 2014 – it is often forgotten that, in addition to provisions on the governance of collecting societies, that Directive also facilitates the licensing of music for multi-territorial online music services -, to the most recent proposal with the country of origin for TV and radio programmes that you mention, which is inspired by the old but still relevant Satellite and Cable (SatCab) Directive.
The Commission is also in constant dialogue and exchange with the relevant industry on how to make sure that more European content is available across the EU. A lot is being done to inject more single market in this area. It is not, however, an easy task and that Commission proposals are often met with wariness, to say the least.  We have to recognise that striking the right balance between more cross-border availability of content and the need to ensure viable financing models for the EU creative industry to continue to thrive is essential. Both are Commission's objective and we think that we have so far achieved a proper balance in our proposals. Still, our proposals keep being hotly debated: so we keep explaining, reassuring and providing technical input so that they succeed and deliver meaningful benefits.
Geoblocking is another example of where we have just agreed with Council and Parliament, and despite a lot of opposition, the end of unjustified geoblocking for consumers wishing to buy products or services online within the EU. The new rules will boost ecommerce for the benefit of consumers and businesses who take advantage of the growing European online market in three three specific situations where no justification and no objective criteria for a different treatment between customers from different EU Member States are conceivable from the outset.  These are: 1) the sale of goods without physical delivery where, for example, a Belgian customer wishes to buy a refrigerator and finds the best deal on a German website. The customer will be entitled to order the product and collect it at the trader's premises or organise delivery himself to his home. 2) The sale of electronically supplied services where, for example, a Bulgarian consumer can buy hosting services for her website from a Spanish company without having to pay additional fees compared to a Spanish consumer. 3) Finally, the sale of services provided in a specific physical location which would allow, for example, an Italian family can buy a trip directly to an amusement park in France without being redirected to an Italian website.
The Regulation does not cover copyright protected content or products for the reasons already outlined – but we will review this in the future.  Also it does not impose an obligation to sell and does not harmonise prices. It does however address discrimination in access to goods and services in cases where it cannot be objectively justified (e.g. by VAT obligations or different legal requirements).
Let's talk about Italy; Fiber network recovery seems to have begun and, despite some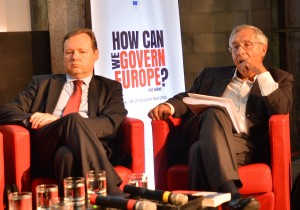 "issues" currently being negotiated (Tim network, Open Fiber role), we would see the effects for citizens over the next few years. What role will the European Commission play if the TIM network is hived off, either voluntary or imposed by the Government or Regulator?
After the approval of the ultra-broadband plan in March 2015, the development of NGA network is evolving in the right direction as Italy is closing the gap with the EU average, even though coverage in the rural areas is still critically lacking behind. We are trying to create the right regulatory environment and the favourable conditions for operators to continue investing in the development of the NGA networks, while preserving at the same time the level of competition.  In this context, after the recent intervention of the Government regarding the use of the so called Golden power on TIM's network, we will closely follow the implementation process which will be developed in the next six months particularly in case a separation process will be proposed.
The Commission's role is crucial in such a procedure. In this respect, it is worth remembering that the purpose of the separation is to ensure the fully equivalence of access products to all downstream operators, including TIM's downstream divisions. In order to arrive to a network separation there are only two possibilities foreseen by the electronic communication framework: either a functional separation imposed by the Italian regulator, AGCOM, as exceptional remedy, or a voluntary separation proposed by TIM. In the first case the national regulatory authority carries out, where there has been persistent failure to achieve effective non-discrimination in several of the markets concerned and where there are no significant prospect of infrastructure competition within a reasonable time-frame, a complex and multifaceted evaluation in order to assess the proportionality of the measure. The proposal for functional separation should be authorized in advance by the Commission.
In the case of the voluntary separation the national regulatory authority should assess the effect of the intended operation on all existing regulatory obligations already imposed or to be imposed/ withdrawn on the vertically integrated operator by carrying out a new analysis of the access markets which will be then subject to the Commission's scrutiny.
So, indeed the Commission will intervene in order to ensure the compatibility of any new arrangements with EU law and with the electronic communication framework, ensuring that it is as well preserved the incentives of the concerned undertaking to invest in its network and that the separation does not entail any potential negative effects on consumer welfare even in terms of social or territorial cohesion.
Italy has welcomed the challenge of the 5G, starting with trials in different cities, both at the initiative of the Government (Milan, Bari, Matera, Prato, L'Aquila) and operators (Rome, Catania, Turin, San Marino). The ecosystem is ready to launch new businesses and business models: what will the effects on competition be? In addition to traditional TLCs, do you think that new actors will come from other areas as well? Will it be necessary to rethink the network model, such as a single wholesale access network, or will the system continue to be based on competing vertically integrated networks?
Competition at global level for the next wave of digital services requires that the 5G infrastructure must be in place as early as possible, which means from 2020 onwards on the basis of the current projections regarding the availability of the new technology. Early experimentation, like the ones in several Italian cities, is an opportunity to kick-start 5G in Europe especially in urban areas with small cells infrastructure where benefits are expected first. But the network should also be more extensive and seamlessly provide an interrupted coverage to connect people in more challenging areas where there is market failure, along highways and in remote areas, to address the increasing demand for capacity.
The Commission set out the target of full deployment of 5G across the EU by 2025. The potential benefits are huge:  potential of creating a further 2 million jobs in the EU and estimated benefits of €146.5 billion per annum. These come in particular from four vertical sectors: automotive, healthcare, transport and utilities. Indeed, 5G is not only enabling much faster access rates, about 10 times more than 4G. It will support ad hoc tailor made connectivity solutions to a number of vertical industrial sectors, where today networks provide only "one size fits all" solutions. This implies a profound industrial transformation of the telecom industry, applying similar technologies to those of cloud computing platforms. This is a huge industrial challenge, but also a big opportunity to transform an industry with stagnating revenues into a real service industry.
Of course, it is not sufficient to have 5G technology available on time, it is vital to deploy it timely and on a large scale to make our economy competitive. This requires short and long term investments, timely and coordinated availability of spectrum for 5G, as well as adequate new deployment models like wholesale models and shared infrastructure.
Italy is creating new competitive players in copyright management, such as Soundreef and Patamu, but paradoxically the market for these operators remains closed, i.e. in the hands of SIAE, which is instead opening up to other foreign collective companies. Why this difference in treatment?
We are following closely the discussions as regards the framework applicable to collective management in Italy. The EU has adopted an important directive in 2014 (the "CRM Directive") which aims at streamlining the rules for collective management in the digital single market and make collecting societies more transparent and accountable towards their members and users. The main target of this directive is collective management organisations. We have had positive interactions with the Italian authorities and they have recently notified us of the new law. We are carefully analysing the situation.
Digital education and digital PA, will the market tow these systems into digital growth or can we think about the opposite?
One side cannot evolve independently from the other. We cannot shape an education and training system without taking into account what the market requires as skills. Otherwise, companies will have to carry the burden of re-training people, while our education system will produce young people that will have difficulty finding jobs, since they do not have the necessary tools for the job market.
The same can be said about eGovernment. Important efforts have been put in place to ensure digital solutions for European citizens. We must remember that, in terms of interaction, Governments compete with important market players, such as online platforms or eBanking services. Citizens carry certain expectations on design and simplicity of the interaction that future digital public administration solutions will have to meet. This is a concept fully embraced by the European Council in the October Conclusions, where it called on national governments and the public sector to be fully brought into the digital age and lead by example, through the implementation of new technologies, accessibility, one-stop Government and the wide adoption of the once-only principle.