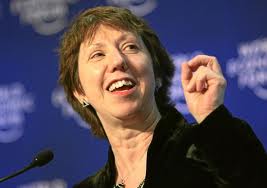 There was a race where practically all the European press participated – to find the funniest and most humiliating definition for the Baroness Catherine Ashton, when at the end of 2009 she was named head of EU Diplomacy. In essence what we all wrote was that she was completely incompetent, without any experience in the field of foreign policy, she had been set up by the British and accepted by other governments simply because being inept would not have disturbed the phenomena that drives the diplomats of the 27 (then and 28 today) member states.
We were wrong. The press sometimes makes mistakes and that time they made one. It's not that Ashton has now become an expert in international politics or a theorist of sophisticated strategy, as so many of her male colleagues have demonstrated that they can do, being then so completely incapable themselves, of obtaining significant results or even just respectable ones for their institutions. Gradually we realized that the English lady, however reluctant to talk to the press, was a hard head, one who if she seeks an objective she applies all her energy with honesty and loyalty to achieve it. The first thing to do was to build a service that did not exist, a diplomatic one. It has been a quiet revolution, but Ashton did it, mixing 3,000 people from the Commission, the Council, the national diplomacy, to leave the Union with a foreign affairs program that it had never had. Sure, there were some problems between officials – jealousies, competition of professionalism and salaries, more or less of power. If we wanted to we could talk about it for days, but nothing would come of it, no issues emerged. The work was done in silence with determination, according to the rules and sometimes even personally imposed by the Baroness, as any leader does, in any public or private institution at any level. I must admit that I would challenge anyone to find any incompetents in the key positions chosen by Ashton. Then her advisory board is a coming and going of people that seems like a metro station, she delegates little and imposes heavy rhythms, she does not guarantee easy careers or privileges, and she offers little visibility.
Her communication service is one of the worst in the Commission, partly because she does not like to talk to journalists, and therefore her spokespeople have little room to maneuver, but maybe that's why one could say that they could do better. She has worked under the radar in a way to not get noticed. She is not a storyteller, she does not go around uselessly with large groups and fancy clothes, she does not pretend to have goodness knows what great ideas on her mind, she doesn't know how to advertise herself; but reading her CV more carefully, we see that every assignment she had, she concluded it with satisfaction for those who charged her with the task. She's like a mole, she works underground but nothing stops her.
Last Sunday she placed her most recent medal on her record stand, signing the agreement on the Iranian nuclear issue as the protagonist. It was not "her credit;" in these cases on the other hand it is difficult to find an individual merit. The government in Iran has changed, Washington decided to work seriously toward this goal in the last year but she has always worked toward this goal with her colleague Clinton and now with Kerry. It appears that the current Secretary of State calls her frequently, even more than Clinton did. But she is quiet; for four years now she's been getting on and off planes, weaving relationships with everyone, everywhere, at times bringing home the results. Another of her great successes are the dialogues between Serbia and Kosovo, opened thanks to her constant insistence, like the drop of water on a stone that cracked it; and even if with some disorder, she led the Serbs of Kosovo to the polls for local elections a few weeks ago.
In Ukraine things did not go as well; the possibility of an agreement seems to be faded at the moment, although Kiev is realizing the risk of being completely at the mercy of Moscow and perhaps is rethinking its strategy. In North Africa, however, all in all, things went better. Almost nothing was obtained, except the fact – neither shameful nor trivial – of having become, thanks to the Baroness, a credible interlocutor for all parties involved. We'll have to see if this could be useful in the future, if and when things move.
We therefore need to think again: Catherine Ashton has done a good job (by European standards) certainly better than many of her colleagues. She has stayed out of the limelight, but it is a matter of style, personality, and we can say, of concreteness.
She has already said she will not stay for another term. We'll see who will come, probably some cocky male with good press, but perhaps at this point, the Commission and the Diplomatic Service might miss something.
Lorenzo Robustelli