Brussels – Mafia knows Scotland very well. Do you still remember Antonio La Torre? The Don on the Don, who lived in Aberdeen for 20 years? Probably not. However, you should not forget that William Wallace's land has already been conquered by mafia-type clans, through sophisticated financial tools and the ability to hide in this rural country. Even your life is deeply influenced by their choices and after Brexit the situation will be worst: gangsters may not pass the borders, but the infiltration of illicit funds will not be stopped. Strengthened European coordination and the development of Police Scotland – a pioneering model of policing – are the only ways to defeat international organised crime.
How mafia invaded Scotland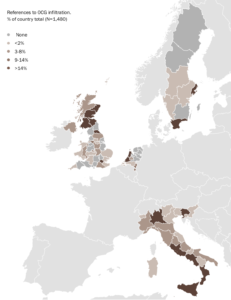 5 billion pounds. This is the value of foreign mafia operations in Scotland, as revealed in 2014 by an investigation coordinated by Transcrime (a transnational organised crime research unit, based in Milan). Foreign criminal organisations have conquered at least one restaurant, shop or firm out of five, like in southern Italy. In an interview for The Daily Record Transcrime's Cristina Soriani said that the gangsters were "directly involved as co-owners of restaurants or import-export firms". "In a local sense", they were considered "successful businessmen".
Although several law enforcement operations against organised crime groups (OCG) have been carried out in Scotland, six years later the risk assessment in the country is still high. Because of the seclusion of the territory, the wealth of the economy and the openness to migration, it is quite easy to hide money and fugitives there.
Aberdeen, camorra money laundering
Businessmen. In the 21st century, gangsters wear double-breasted suits and they hide the guns among checks and papers. The case of Antonio La Torre is paradigmatic. Already a member of a camorra group from Mondragone (Caserta), he arrived in Aberdeen in 1984 to open the Italian restaurant Pavarotti's, used for 20 years as a base to launder money in Scotland. "The country was attractive because of the vibrant economy, driven by the oil and gas industry", Paolo Campana, Lecturer in Criminology at the University of Cambridge, reports. "In addition, the lack of anti-mafia legislation made Scotland a safe place".
Antonio La Torre was at the head of seven different short-term legal companies and he tried to infiltrate into the construction industry and the real estate. "The clan operated along the lines of functional diversification: it looked for new opportunities, both in the legal and illegal markets", Dr. Campana continues. Despite La Torre's extradition in 2005, 20 years of unexpected camorra money laundering in Aberdeen revealed how Scotland is a paradise for whoever wants to hide illicit funds in the legal market.
 Scottish Limited Partnerships, a hidden Eldorado
"Foreign criminal groups are able to adapt. They choose places where nobody expects them to be and look for partnerships with local actors". The statement of Vincenzo Scalia, Reader at the University of Winchester, is confirmed by Anna Sergi, Lecturer in Criminology at the University of Essex: "Money laundering is now facilitated by the rurality of Scotland and by a particular financial tool, the Scottish Limited Partnership".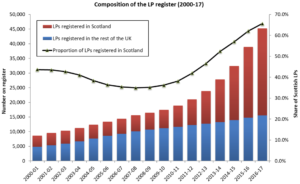 SLPs are firms registered in Scotland, with parent companies in fiscal paradises, such as Seychelles and Panama. Offshore partners, linked with international organised crime, corruption and money laundering, control 90 percent of SLPs. Although since 2017 the British law requires formal registration of legal personalities (who can hold assets and enter into contracts), the majority of legal personalities still do not appear in company filings. According to The Herald's journalists David Leask and Richard Smith, "as long as SLPs have offshore parent companies in tax havens, they have no need to file any financial accounts". 78 Montgomery Street, Edinburgh; 44 Main Street, Douglas; 700 West George Street, Glasgow. Common addresses that cover thousands of SLPs' affairs: more than 15,000 are registered in 14 flats. None of them has never filed a financial account, laundering billions of pounds. In Scotland. Right now.
After a rising of SLP registrations by 430 percent between 2007 and 2016, in 2018 they were at their lowest level since 2010 (less than 1000 new SLPs). Nevertheless, according to the journalism website Bellingcat, the lack of regulation created a window of opportunities for transnational crime affairs, which still circulate in the UK's legal economy. Since 2014, 66 enquiries for research on SLPs have arrived from European law enforcement agencies to Police Scotland, especially from Eastern Europe. This international issue has not been solved yet.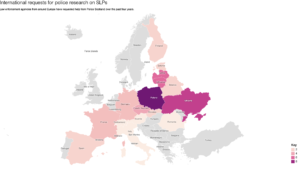 Police Scotland, an example in fighting organised crime
How can we fight against the international crime that is more and more sophisticated? Scotland has already shown the way, through a pioneering solution. Since April 2013, eight regional constabularies have been replaced by Police Scotland: the largest policing merger in the 21st century, that formed the UK second-largest force after the Metropolitan police. "Police Scotland's main features are efficiency and coordination of its policing strategies, provided by this centralisation on a national level. This is a pioneering method in fighting against organised crime and investigating illicit funds", Dr. Sergi states.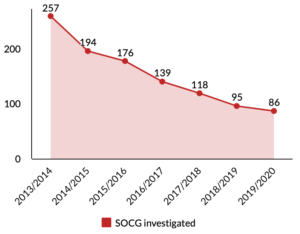 These data confirm her words: seven years after its foundation, Police Scotland has brought the number of investigations on Serious Organised Crime Groups from 257 to 86. Two local groups and mafia-type clans out of three known by Police Scotland have been eradicated in only seven years and more than £55 million per year have been identified for cash and assets restraint. Moreover, thanks to the merging of local police forces, it is now easier to have a perfect picture of all organised crime's activities and routes in Scotland. A unique police force, with specialist crime divisions, units and taskforces, allows more chances to analyse the complexity of cybercrime, drug trafficking, money laundering and terrorism and to defeat even transnational crime groups that are doing business in Scotland. Furthermore, international agencies can promptly relate to a national police force, instead of many local constabularies, also taking advantage of Europol's network. All these crimes are so spread all over the world, that only tight cooperation among huge and specialised police services can be effective.
"Not in my backyard". All the risks (and lies) of Brexit
In December 2018, the House of Commons' Home Affairs Select Committee reported the risks for the fight against organised crime after Brexit: "There has been a concerning lack of progress in securing the UK's future relationship with Europol and the European Arrest Warrant". Two years later, on the eve of Brexit transition period end, the government has not managed to cope with the loss of its seat on Europol's management board yet.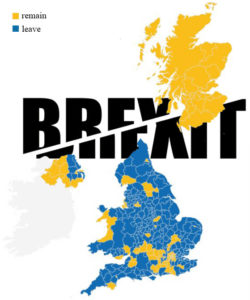 "Organised criminal groups will be the winners of Brexit", Dr. Sergi warns about the false myths of exiting the EU. First of all, on border control: "Criminal activities are dependent on market law of supply and demand, and border control is factored in the business risk. For example, if drugs are more expensive, but demand does not fall, the UK will become an attractive place to do business". Exiting the EU will not decrease transnational crime's affairs, but rather it will increase profits for foreign mafia-type clans. In fact, "isolation is not likely to affect organized crime networks", because they are "linked to local environments". In other words, local clans will continue offering support to international crime groups in drug trafficking and money laundering.
Illicit financial flows do not necessarily implicate physical movement: Brexit will not stop Mafia. On the contrary, it will have "more opportunities for profit and investments and will be a nightmare for national law enforcement agencies", Dr. Sergi adds. In particular, Brexit will affect the pioneering Police Scotland, which will lose the connection to Europol and will not be able to develop its innovative features. "United Kingdom needs to be able to work with partners towards international cooperation in policing, in order to understand how best to intervene to disrupt criminal networks".